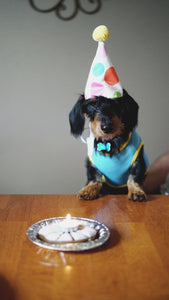 Planning an awesome party for your dog.
The day you brought your dog home probably changed your life forever. Everything has probably been a little bit more messy but a lot more of fun since they came along. Dogs can change our lives. They are there for us through thick and thin and always ready to cuddle when you need it most. It only makes sense to celebrate the love they bring to us every single day. Why not throw your dog an awesome party to show them a little bit of the joy they bring to you?
Dogs are a simple bunch with pretty low party standards, so luckily they'll love whatever you do. Just provide the right refreshments, decor, and friends and you've easily got the best day of their lives (besides the day you met, of course)!
Here are a few things to keep in mind when planning a party your dog will flip over.
Any good party can be made even better with the right guests. If you want to keep things small, you can still have a great time with just a few human guests and the guest of honor. A party of this size would be safe to hold indoors.
Dogs make such an impact on everyone in their lives, so it might be hard to keep the guest list small. Everyone will want the chance to come have some fun and celebrate your pup. If you're planning on a bigger bash, you can invite all of your fellow dog lovers and their furry friends to this dog-friendly affair. Just make sure you have enough space for the four-legged guests to get a little bit rowdy. An outdoor space is best for a bigger guest list when it comes to dogs. Dogs become a part of our family, so remember to invite all of the family that treat them like their own.
It's probably best to leave a few people off the guest list. If there will be multiple dogs running around, you should probably keep the guest list to 10 years of age and older, for safety reasons. If any friends or family aren't dog fans, probably best to leave them off the list as well.
Pick a theme and go all out. Dogs might be color blind, but you can still have fun with decor. Fun ribbons, pom poms, hanging swirls, and shiny garland will offer a sensory experience your dog and guests will love. A "happy birthday" banner is a must if planning a birthday party.
There are tons of balloon options available to help personalize the day, too. If it's a birthday party, you can memorialize it with a giant number to celebrate the year. You can also get letter balloons to spell out your furry friend's name or a word like "woof". The options are endless.
Don't forget to pick up paper plates and tablecloths to match the theme. With such a messy crew, you'll need something to serve snacks on that will keep everything clean.
Providing fun hats or headbands can be a cute way to get all of the party-goers on theme. Be sure to get enough for furry and human guests, but buy a special hat for the guest of honor. Make sure that the hats you purchase have a strap to help them stay on the party animals' heads.
You can even get custom tee shirts made as gifts for the pet parents, complete with a personalized tagline to commemorate the day.
If you're having a party full of dogs, you better have some open space. Outdoor venues like a fenced in backyard, a pool, or a dog park are perfect for large groups of dogs that like to run and wrestle. At these types of venues, there are tons of activities you can plan to keep the human and dog guests having fun.
Pinatas aren't just great for children's birthday parties. Fill one with treats and have your dog and others chase and jump for a chance to get to what's inside. You can also plan races and agility courses for the dogs to try to get through. Games of frisbee and tug of war are always hits as well. If you're having your party near water, let the dogs swim to their heart's content, but never leave dogs unattended near the water.
We saved the most important part for last! You can't have a great party without the right refreshments. Make sure you have lots of water stations throughout the venue to keep thirsty dogs satisfied. Check throughout the event to make sure they remain clean and filled, especially if you are celebrating outdoors.
Make sure you have enough beverages for your human friends; a variety of options is always best. You can provide a themed specialty cocktail for your human guests. Doggy daiquiris anyone?
Have snack options everyone can enjoy, with some healthy and some decadent. Healthy items like fruit and veggie trays are great for both pooch and people. You can offer different flavored dog treats for the furry guests, and some easy finger foods like chips and dip, deviled eggs, and fried chicken for the humans. Providing some doggy bags for guests to take treats home with them is a nice on-theme touch.
And you of course can't have a party without some cake. Specialty pet stores or bakeries will often sell or bake dog cakes that are safe for your dog to enjoy. Some even make dog cupcakes, cookies, and donuts. Get your dog something special to celebrate their special day. You'll have just as much fun watching them smash a cake as they will eating it.
Follow us on Facebook, Instagram, and Twitter for more tips and to be the first to know about any limited-time discounts and giveaways!