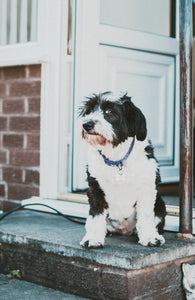 Planning to travel and not sure what to do with your dog?
Planning to travel and not sure what to do with your dog? We all have to get away sometimes, whether for business or pleasure, but it can be tough to be away for any amount of time when you have a dog waiting for you at home. Not only do you miss your furry friend, but they depend on you for their every need. Here is a simple guide with tips to help you prepare for any trips away from your dog.
Find a trusted caregiver
As a dog parent planning a trip, figuring out what to do with your pup while you're away can be stressful. Your dog can't fend for themselves, even if only for a day, so being a dog parent means planning ahead. As responsible pet parents, we have to make sure there is a reliable, responsible person who can watch out for our dogs when we can't be there ourselves. Luckily, there are a few great options you can choose from depending on your situation.
If you have a trusted friend or family member who loves dogs, they can often make a great pet sitter. The benefit to this option is that you will be able to relax knowing your dog is in good hands with someone you know cares about them. Having a friend or family member who loves your dog pet-sit usually means your dog will get tons of love and attention while you are away. Another plus is that you won't have to worry about your dog adjusting to a stranger.
Dogs like stability and routine, so if the sitter can stay at your house, even better. However, most dogs are just fine spending a little time somewhere else, if needed. If your dog stays elsewhere, just make sure the area is dog-proofed first. If a person is less-experienced with your dog, they might not know all of its weird little quirks, like getting into the garbage can or chewing on shoes. As long as you trust that this person can take good care of all your dog's physical and emotional needs, this can be a great option.
Another option is to hire a paid pet sitter. There are a variety of local options in most towns, and if you have any friends with pets, they might be able to recommend someone great that they've used previously. It's best to meet with any sitters ahead of time to make sure your dog gets along with them well.
There are also multiple big-name pet sitting services available. Wag and Rover are two of the more popular online resources used to find pet care. You can read through reviews and check a potential sitter's availability directly through the company's app or website, and even book them when the time comes. The prices for boarding or pet sitting through these sites varies since the sitter often sets their own rates, but the average is about $40 per night. Many pet sitters through this type of online referral source pet sit for a living, so they are often very experienced and have a true love of dogs.
This can be a great option as long as you do your research. Make sure that you thoroughly vet anyone you don't know who watches your dog. Ask for references and check on their experience and dog knowledge. Find out whether other dogs will be around or if your dog will be the only one in their care. Don't just aim for the cheapest person available. This person will be responsible for keeping your dog safe, so make sure they are reliable and trustworthy. If you have any suspicions otherwise, keep looking. If not properly vetted, an unreliable sitter could create a dangerous situation for your pet. Finding someone reliable is worth spending a little extra.
The last option is to board your dog at a kennel or veterinarian's office. Kennels and vet offices typically have more than one dog in their care at once, so they might not be able to give your dog as much one-on-one attention as a sitter or friend. But the benefit of these establishments is that they usually have a ton of hands-on experience watching dogs, so you can rest easy knowing that your dog is being well-cared for.
Like a pet sitter, using a kennel does require some due diligence on your part. Check for negative reviews and see if you can talk to any prior customers first before leaving your dog in their care. If possible, go for a visit to the kennel before you drop your dog off. Get a feel for the schedules and procedures at the facility to make sure that they will work for your dog's needs.
Many veterinarians will also offer boarding services, which is helpful because you know they have all of the skills and training needed to keep your dog safe. Vet offices require licensure, so their staff is typically well-trained and reliable. This option can sometimes be a little more pricey than the others, but it is worth the peace of mind you will have knowing your dog is safe. It is also a great option if you have a high-maintenance dog that requires extra care due to health concerns.
Provide all necessities and resources
If you have a pet sitter watching your dog while you're gone, you'll need to make sure that you leave them with everything they need to succeed. Before your trip, be sure to stock up on your dog's food. You will also want to make sure to stock up on any medications your dog takes that could potentially run out. You wouldn't want them running out while you're away and have your sitter frantically trying to figure out how to refill them.
If you're leaving your pet with a sitter or kennel, be sure to leave any phone numbers that might be needed. Numbers that are always important to leave are: a backup contact for you, (like the office you are visiting or the hotel you are staying at), the veterinarian's office, and an emergency contact that can be reached in the event you are unavailable.
Leave written instructions for any routines that you'd like your dog's caregiver to follow, such as how to administer medicine. If there are any important things that you would like the dog sitter to keep in mind, be sure to write them down. Examples of this are: shut the bathroom door when you leave, dog likes to eat first thing when you wake up, feed 2 cups of food at each meal, etc.
Keep the separation anxiety at bay
Dogs thrive on routines and consistency, so you want to do all you can to make sure your dog can maintain as much normalcy as possible while you're away. If you have a sitter, make sure you explain your dog's schedule so they can attempt to stick to it as much as possible.
Leaving your dog with a tee shirt or blanket that smells like you can help prevent separation anxiety and homesickness. Make sure you have some of your dog's favorite treats available for a little pick-me-up, if needed. If your dog is staying away from home while you're gone, bring along their bed and/or crate. Sending them away with a favorite toy or two should also help them feel at home in their new surroundings. To support your dog's mental health, ask their caregiver to make sure they receive enough exercise time and some extra hugs and kisses.
Being away from your dog can be an adjustment for everyone involved. But with a little planning and care, you can ensure that everything goes smoothly and your dog is happy and safe while you're away.
Follow us on Facebook, Instagram, and Twitter for more tips and to be the first to know about any limited-time discounts and giveaways!