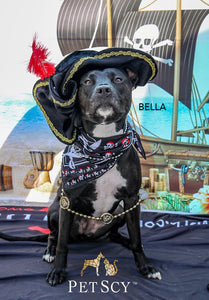 The Why behind PetScy
At PetScy we work hard to create the best products for your dog because we love dogs just as much as you do! As dog parents ourselves, we understand how difficult it can be to find products that meet the high standards we have for our dog's health. That's how PetScy was born.
Our founder Chris discovered his love of dogs later in life. Growing up he struggled with allergies that prevented him from owning a dog. Due to this, he never really had much experience with them.
When he met his girlfriend he was introduced to her lovable pit bull, Patty. He'd heard negative things about the breed over the years, but after connecting with Patty, his eyes were opened to how sweet and smart the breed is. Sadly, Patty passed away after a battle with cancer and their home suddenly felt sad and empty without a furry friend around. They knew another dog would never fill the void Patty left behind, but considered possibly rescuing another pit bull.
After a couple months without a dog, they started casually looking and stumbled upon a Craigslist ad for a 9-week-old pit bull puppy living in bad conditions. They reached out to the owner and decided to stop by just to see. When they saw the conditions she was living in and how adorable she was, they knew they had to bring her home. Thus, their family gained another family member named Bella, and the rest is history.
As many dog names do, hers has morphed over time to Belly. She is a sweet, strong little black pitty with big, floppy, bat-like ears, who loves to cuddle on the couch, take long walks on the riverwalk, go swimming, and sneak some gelato from her dad. Belly is the perfect sidekick, going everywhere with Chris and keeping him company throughout his day. Chris says his life changed for the better when Belly came along. He can't imagine his life without morning wake-up snuggles and a friend around that encourages him to get outside and be active. Raising Belly and seeing how much personality and unconditional love dogs have opened Chris' eyes to how truly special dogs are.
Chris feels that dogs are our angels on earth. Their only goal in life is to make us happy and be there for us. They help people with health problems, keep us safe, and want nothing in return. They seem to know when you need them most, and are always there with a cuddle or kiss. Their presence makes our lives so much brighter.
Belly is like a child to Chris and his family, and at about 6 months old she gave him quite a scare by injuring her leg, possibly a torn ACL. She ended up being okay, but Chris wanted to be sure he was doing everything possible to keep her healthy so that it wouldn't happen again. He searched around for a natural product that would strengthen her muscles. He purchased multiple supplements and products online that promised to improve her muscle strength and overall health, only to be disappointed. He did a little research and discovered that all of these so-called "health supplements and chews" were all produced by one manufacturer who was just repackaging the same lackluster product for different brands to distribute. "Once I found this out, it was obvious as I started to notice that all the products themselves looked the same as their competitors.  Either the supplements/chews were little pebbles that would come in a 120-quantity container or a bone shaped chew. No wonder customers were disappointed when they tried a different product but had the same results.", stated Chris.
This set him off on a mission to heal Belly himself. He began researching and testing out safe vitamins and minerals to see if they would help her heal. He also switched her to a raw diet, and continued to provide her with lots of exercise and mental stimulation. After about 6 months, he took Belly in for a routine vet visit and was surprised when even the vet noticed the improvements to her health. He commented on how shiny her coat had become and how her ACL joint showed no signs of injury, which was uncommon. Chris had of course noticed too, but when the vet acknowledged the difference, he saw what a significant difference his supplements were really making. The vet joked that Chris should sell his "special formula", and that was an "aha" moment for him. He decided to find a way to get his product out to other dogs so they could benefit from it just like Belly had.
 Chris's goal was to create a company where dogs' well-being came before profits, and PetScy was the outcome. Chris feels that dogs are family members and they deserve the best, just like any other family member. That's why he and his partners spent significant time researching, sourcing the highest quality ingredients, and testing formulas to make sure that the final product was up to their high standards. The founders of PetScy would never provide a product that they wouldn't give to their own dogs. 
On top of creating a high-quality wellness product, Chris wanted to find a way to give back to the community. Dogs have made such an impact on his life, so he wanted to find a way to impact theirs as well. PetScy donates a portion of all proceeds to organizations that help neglected dogs find their forever home, starting with The Humane Society of Tampa Bay.
After seeing many happy customers benefiting from PetScy's products, it has only fueled Chris to do more to help dog owners and their furry friends. Chris continues to research and create products that he knows dogs and their owners need, and has plans to partner with other small rescue organizations in the future to continue to spread the love.
Thanks,
Chris and Bella