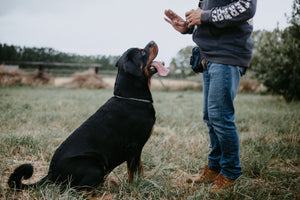 Which Type of Training is Right For You and Your Dog?
If you've just adopted a new dog or puppy, or maybe even just want to teach an old dog some new tricks, you might be searching for the best way to accomplish those goals. There are many options for dog training, so it's hard to know where to begin and which will be right for you.  Each type of training has its pros and cons, so we broke them down for you.
D.I.Y (Do It Yourself)

- These days you can learn pretty much anything online. A simple google search of the command you'd like to teach your dog will net you hundreds, if not thousands, of results. YouTube videos and online message boards can be excellent resources for training your dog if you are more of a D.I.Y. kind of person.
Some of the resources you can find on the internet are from tried and true experts with certifications galore and others are people who just have a knack for getting dogs to learn new things.
Like people, each dog has a different learning style. Some are food-motivated, which makes it very easy to get them to do what you want. All you need is a few treats and your dog will be sitting in no time. Other dogs could really not care less about treats and just want love and affection from you in return for doing a good job. 
By using the internet, you can watch a variety of different trainers to see what you like and which style works best for you and your dog. Then, put what you've learned into action with a step-by-step tutorial training video. Don't forget to scroll through the comments to see if any other novice trainers have offered up helpful tips you might find useful.
Message boards for dog training can be great resources as well. If you are struggling with teaching your dog something, it's pretty likely there is someone on the internet who has had the same issue before. It's also pretty likely someone has written a post about it. You can browse through existing inquiries online or reach out to a group on a forum like Reddit to crowdsource information and tips.
This budget-friendly training option is great for those of you who are just testing out the waters with dog training. Checking out online videos and message boards is a great place to get started and is an easy way to see what you are capable of on your own before you spend a bunch of money. After you've attempted some commands on your own, you will have a better sense of the time and monetary commitment you are willing to put in to further your training goals.
This form of training is a great option if you simply want to teach your dog some simple commands or tricks, but it might not be enough if you are attempting to correct bad behaviors. If you've tried to teach your dog on your own and haven't gotten as far as you'd like, there are other more involved options available.
Group classes

- Another great option for training is to check out an in-person group class. Whether you've researched all you can online and still have questions, or you just learn better in person, a group class might be the best option for you. There are a variety of in-person classes that you can take advantage of. Some paid classes sometimes even offer an intro class you can take for free to see if you like it.
Group training classes will usually meet at a set time once per week, so they are not as flexible as training on your own, but they do allow you and your dog to meet new friends. These classes are an investment, but you can often find affordable group training classes and they are typically cheaper than private sessions. Pricing really depends on your location and how in-depth you'd like to go.
Many pet stores, both local and large chains, have gotten involved in the dog training game and offer regular classes for new pet owners, as well as some for those who have a newfound interest in dog training and want to expand their dog's skills. These types of classes can be a helpful resource for learning basic commands and tricks. At the chain pet stores, they typically sell their training classes in package plans. The average 6-week package for a group training class is about $100-$150.
Or if you'd like to support a local business, there are also quite a few local businesses in most cities and towns that specialize specifically in dog training. They also offer classes that range in skill level. Costs vary greatly, but the average cost of a group dog training class from a local company is around $40 per class. Many commands and tricks take repetition though, so just like the bigger guys, classes are often sold in packages that range from $200-600 for a multi-week course.
Dog training courses range from learning the basics like sit, stay, and shake, to running through obstacle courses and doing complex tasks. Behavior modification classes are sometimes available too, and can be especially helpful in training a new puppy to be comfortable with other dogs and people. Depending on what you are looking for, you can take a few classes or make it a regular bonding experience with your dog to keep building their skills.
Like a YouTube video or online resource, in-person classes offer a range from beginning to expert-level courses. However, unlike online, an in-person class allows you to ask questions and get pointers from a professional, when needed.
If you are having trouble training your dog on your own and are willing to put in a little bit of commitment both monetary and with your time, then group classes might be a good fit for you.
Private lessons

- These personalized sessions are for you if you are not worried about price and would prefer an expert play an integral role in your dog's training. This one-on-one assistance will help you and your dog meet your training goals much quicker than a group class or DIY, but it will definitely cost more. The average private training class ranges from around $70-$120, and you will typically need more than one.
One of the main benefits of this type of training is the flexibility it allows. You and the trainer can pick the time, date, and recurrence of your training sessions and tailor them to fit your exact needs and schedule. You can also choose to work with the trainer or have the trainer work with your dog on their own. Another great benefit is that the trainer will usually come to you, which is convenient for those with busy schedules.
This type of training is helpful if you are attempting more difficult tricks or commands. It's also a safe bet if you are trying to retrain your dog or fix bad habits. Behavioral issues like aggression or separation anxiety in dogs can often have a psychological aspect that requires a pro to fix. Trying to correct these types of issues on your own can sometimes cause even more harm than good. If you are looking for corrective training, alone time with a professional who can work one-on-one with your dog over time is typically the best and most reliable option.
If you find a quality, knowledgeable trainer with experience, they should be able to help you with your training wishes and will be a good investment.
Training camps

- For busy dog owners, a training camp is a suitable option for training your dog. This option is a big investment, but one that should pay off if you have the financial resources for it.
One type of training camp is a day camp where you drop your dog off in the morning and pick them up in the evening. Your dog will attend daily for at least a couple weeks, sometimes longer. While there, trainers will work with your dog in a group or private setting.
Another option is a boarding training program—basically a sleep away camp for your pup. In this type of training camp, you will drop your dog off for a week or two, and while away they'll get 24/7 training from a professional.
Both types of training camps cost a pretty penny, with boarding camps costing more than daily camps. These camps generally require a commitment of a certain number of days, with the average cost anywhere from $1,000-$3,000 per camp.
This type of training is perfect for those who don't care to be involved in the training and just want a perfectly trained pooch, no matter the cost. Like individual training, this type of training can also be very beneficial for dogs who have behavior or anxiety issues. This type of issue takes a lot of extra help and long-term training. An expert will work with your dog around the clock to diagnose and eradicate the issue at hand so that they can be on their best behavior for you when they return home.
Finding the training option that works best is a personal decision that relies on a variety of factors, and is not one size fits all. Hopefully after following the guidance above, you'll be able to make an informed decision that works for you and your dog.