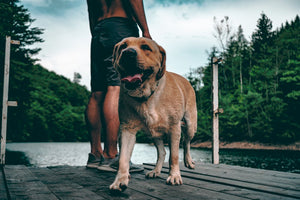 Dog days of summer
Every winter we spend months stuck inside due to cold or rainy weather. By the time summer rolls around we are all more than ready to get outside and take in the sunshine. Those warm, balmy days in the summer are the perfect time to get outdoors and those longer nights mean more hours to have fun with friends and family.
Why not bring your dog along? From BBQs to beach days, there are so many dog-friendly summer activities for you to enjoy together. Whether you and your pup are more into adventuring or relaxing, there's something for everyone to enjoy this summer.
The first thing that comes to mind when we think of summer are days on the water. Whether it's the beach, lake, river, or pool, we've all been waiting to get outside and swim and sunbathe. Most dogs love the water, and your pup will love splashing around with you. A day spent swimming and running on the sand is the perfect activity to keep you and your dog cool on the hottest summer days. If you are lucky enough to have a boat, your dog would be happy to ride along and feel the wind blow in their fur. Special dog-sized life jackets make boating safe and fun for your little buddy. If boating isn't your thing, so many cities offer dog-friendly beach options so you can get out on the water. You can check out a list of great options here for you to try out together next time you need some vitamin sea.
Hiking is another enjoyable summer activity for you and your dog to share. There is nothing like getting in some exercise out in the fresh air. Long treks are an excellent workout and being out in nature will give both you and your dog a mood boost. If you're close to the mountains, there is nothing quite as exhilarating as hiking to the top with your best friend by your side. If you are up for the challenge, your dog will be right beside you. The rough mountain terrain is probably best left to the more experienced, spry dogs, but a nice, shady walking path in the woods is a great hike for dogs and people of all ages.
State and national parks are a terrific option for outdoor adventures. Some parks have specific regulations and safety precautions regarding dogs that must be followed, and others do not allow pets at all. Be sure to check the specific park's website before heading out to make sure you are fully informed on any important rules. The park's website will help you plan the perfect day trip.
While you're at it, you can extend the fun with a camping trip. Enjoy the mild weather at night by sleeping under the stars with your sidekick. Your dog would love to keep you company and is an adventure partner who is always up for anything. You can spend your days hiking and fishing and your nights sitting by a campfire roasting hot dogs. Your dog certainly won't mind if you share a bite or two.
If you'd like to stick a little closer to home, a picnic in the park is a laid-back option that doesn't take much planning. Most parks are dog-friendly as long as pets are leashed, and there are lots of great dog park options if you'd prefer to let your furry friend run free. Don't forget to pack a blanket and picnic basket full of yummy snacks for you both and find a shady spot under a tree. You can bring a frisbee along for a fun game of fetch, and after you're done running around you can both sit back and relax together as you watch the day go by. If you can do so safely, you can even invite a few friends along to each bring a dish and host a dog-friendly BBQ in the park that dogs and owners can all enjoy.
For social butterflies, a morning brunch at your favorite outdoor restaurant is the perfect way to spend a Sunday morning in the sun with your pooch. Many restaurants with outdoor seating are fine with you bringing your dog along. Some restaurants will even offer a complimentary bowl of water if your pup gets thirsty. Your dog will love to meet all the new friends that pass by and tell them how cute they are while you enjoy a mimosa or two. Plus, your dog might even get lucky if you drop some scraps.
This time of year there are usually many options for fun, dog-friendly outdoor markets and festivals if your dog doesn't mind crowds. Many big cities and small towns are becoming havens for dog lovers, so local calendars are often packed full of events that are happy to have four-legged attendees. Although, some plans might have changed due to recent events, so be sure to check the event pages for recent updates and always follow the social distancing guidelines for your area.
Things are a little different right now, but under normal circumstances you can spend hours strolling through stands at an outdoor art show, or spend the morning trying out tasty treats while searching for dog-centric goodies like bandanas and leashes at your local farmer's market. You might even be able to find a dog festival near you that is geared specifically towards dog people and their pets.
There is a growing list of this type of event popping up all over the country where dog lovers can share fun times together along with their pets. You can find a short list of some cool ones here to check out when we are able again.
Whenever you're out and about with your dog in the summer, be sure to always keep an eye out for any signs of overheating and make sure you always bring along plenty of water. If you are hot, odds are your dog is, too.
With so many fun options to choose from, you and your furry friend will be having a blast together all summer. And no matter which summer activity you choose, your pup will have the best time hanging out with his favorite person.